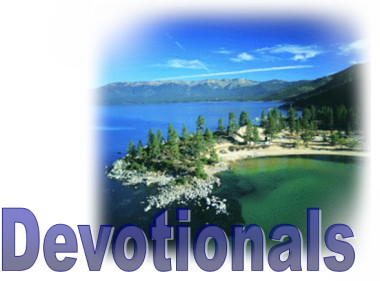 Our Daily Bread - Daily Devotionals
The Mighty Toe - Recently, I heard of a sport that challenges my imagination—I can't comprehend why anyone would play it. It's called "Toe Wrestling." Every year, people from across the globe gather in England for the world championships.
Come Home - As 19-year-old Amelia waited in her doctor's office, she recognized the familiar hymn "Softly and Tenderly Jesus Is Calling" playing over the speaker. It made her smile when she remembered the words.
The Benefit Of The Doubt - In 1860, Thomas Inman recommended that his fellow doctors not prescribe a medicine for a cure if they weren't sure it would work. They were to give the patient "the benefit of our doubts." This phrase is also a legal term meaning that if a jury has conflicting evidence that makes the jurors doubtful, they are to give the verdict of "not guilty."
Haters Of God - Recently, I listened to an audiobook by a militant advocate for atheism. As the author himself read his own work with spiteful sarcasm and contempt, it made me wonder why he was so angry.
Whispering Gallery - London's domed St. Paul's Cathedral has an interesting architectural phenomenon called the "whispering gallery." One Web site explains it this way: "The name comes from the fact that a person who whispers facing the wall on one side can be clearly heard on the other, since the sound is carried perfectly around the vast curve of the Dome."
Hard To Imagine - Whenever my wife, Martie, and I get ready to go on vacation, we like to read about our destination, study the maps, and anticipate the joy of finally arriving at the place we've dreamed about for so long.
Resurrection And Life - Jesus said, "I am the resurrection and the life"! It's one thing to make such a bold assertion; it's another to back it up—and back it up Jesus did by rising from the dead.
Get Our Daily Bread at home - Since 1956, Our Daily Bread has been the favorite devotional used by millions of people around the world. Now you can enjoy the timely stories and life applications found in its pages. Spend time in God's Word and find deeper meaning in each day's Scripture reading. Sign up today to have Our Daily Bread delivered to your home at no cost or obligation.
What You Will Get - I will give your life to you as a prize in all places, wherever you go — Jeremiah 45:5 This is the firm and immovable secret of the Lord to those who trust Him — "I will give your life to you . . ." What more does a man want than his life? It is the essential thing.
What Do You Want? - Do you seek great things for yourself? — Jeremiah 45:5 Are you seeking great things for yourself, instead of seeking to be a great person? God wants you to be in a much closer relationship with Himself than simply receiving His gifts — He wants you to get to know Him. Even some large thing we want is only incidental...
The Supreme Climb - Take now your son . . . and offer him . . . as a burnt offering on one of the mountains of which I shall tell you — Genesis 22:2 A person's character determines how he interprets God's will (see Psalm 18:25-26). Abraham interpreted God's command to mean that he had to kill his son, and he could only leave this traditional belief behind through the pain of a tremendous ordeal. God could purify his faith in no other way...
"Ready in Season" - Be ready in season and out of season — 2 Timothy 4:2 Many of us suffer from the unbalanced tendency to "be ready" only "out of season." The season does not refer to time; it refers to us. This verse says, "Preach the Word! Be ready in season and out of season." In other words, we should "be ready" whether we feel...
The Warning Against Desiring Spiritual Success - Do not rejoice in this, that the spirits are subject to you . . . — Luke 10:20 Worldliness is not the trap that most endangers us as Christian workers; nor is it sin. The trap we fall into is extravagantly desiring spiritual success; that is, success measured by, and patterned after, the form set by this religious age in which we now live. Never seek after anything...
Copyright © 2011 Gladys Raj. All Rights Reserved.